Powermac Cables Comes Replace - USB 2-Port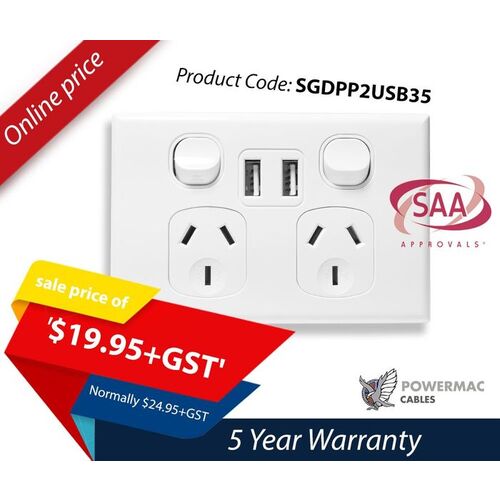 Powermac - more than just a cable company. Powermac Cables Australia Pty Ltd. never seizes to invent next-gen products and they've recently come up with the latest, Double powerpoint 10a with twin 2 port 3.5amp USB.
This double powerpoint with twin dual A type USB charger combines modern conveniences and contemporary style. It comes with a removable cover that allows for ease of access and a clean look. Equipped with a quality solid switch mechanism, which allows for positive action switch feel. It will charge your smartphone or iPhone and other appliances via USB at lightning speed.
Powermac always has your safety and protection in mind. Our products should only be installed and serviced by certified electricians, the protective cover helps prevent direct access to the screws after installation. The switched sockets provide a safe and quality connection for all appliance plugs used in the powerpoint, providing additional protection for all electronics.
The company focuses on bringing forth top quality products at an affordable price. Powermac's Double powerpoint comes with a powerful USB 2 x 2.4A output which is Ideal for kitchen or bedrooms and suitable for installation in wall boxes. It is a very sleek and square, easy and fast installation with low standby power consumption, overload protection (USB circuit), and extra safety (powerpoint).
The product is bold, striking and refreshing. The Double powerpoint has a powerful integrated USB mechanism that can charge your smartphone or tablet at its maximum speed. The product is suitable for telephones, smartphones, MP3/MP4 players, fitness bands and sport watches.
This SAA certified classic GPO charger comes with twin port and solid classic design with a 5 year warranty. Go for quality products at affordable prices to give you ultimate user satisfaction and relief. Buy online today. Located near major transport companies, giving us the scope to supply Australia-wide.
---
Leave a comment