5 Different Types of Cables and their Applications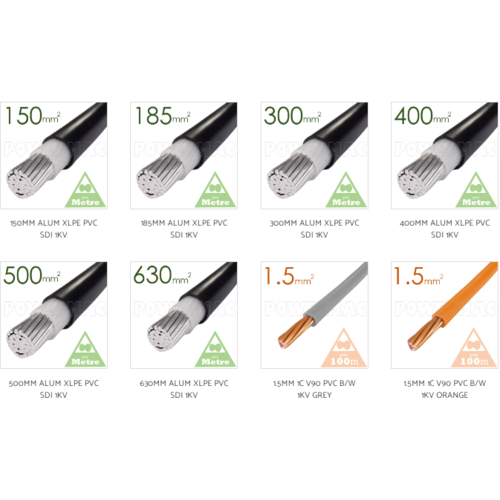 Electricians find it easy but for the general population it is important to understand the difference between cable and wire. Though used interchangeably they are not the same. So what is the basic difference? Just in a sentence, we can say that the cables are a combination of wires. Both single wire and cable have insulations whereas a cable has outer insulation and individual wires inside also have their own insulations. The purpose of both the cable and wire is to carry electricity or electromagnetic signals.
Having these differences and similarities in mind let's get into the blog to know the 5 major types of cables and their applications.
#1 SINGLE CORE CABLES: As per the name, it contains a single conductor made of copper or aluminium insulations, widely-used cables in residential and commercial installations. The most common use is to transfer electricity. Depending on the single-core cable size requirement, its application may extend to other areas such as wiring in electrical appliances and equipment.
#2 MULTICORE CABLES: Multicore cables contain more than one conductor/core inside. These cables are extremely versatile and used for power, data, and signal transmission. Improved electrical, mechanical, and/or thermal performance, enhanced chemical and fluid resistance and compact size have made it a preferred choice where space, safety, and reliability are important.
#3 DATA & INSTRUMENTATION CABLES: These cables can be single pair or multi-pair meant to carry. They are used to connect electrical equipment, especially where process control is required.
#4 THERMOFLEX™ FIRE RATED CABLE: Fire-rated cables are the cables that are flame retardant. They are good enough to limit the propagation of fire along the cable if exposed to a fire source at any location. These are used in commercial buildings, offices, railway stations, airports, etc. where a high volume of traffic plays every day. Basically, these cables ensure the safety of the installation in case of fire.
#5 FLEXIBLE CABLES: As the name stands these types of cables are very much flexible and have many applications. Be it industrial, commercial, or residential installation, flexible cables are best suited to attain maximum safety.
Cables are the lifeline of any electrical installations. So always get the best quality of the cables to ensure safety and uninterrupted supply of electricity. If you are working with any big project in Australia then Powermac cables, the wholesale supplier of power cables in Australia can be your one-stop solution for various cables at a wholesale price. The warehouse in Brisbane has the largest stock holding to meet all of your off-the-shelf stock or custom cut-to-length electrical cable requirements. Call at 1800 100 000 or email at Sales@Powermac.Net.Au for any of your queries related to sales & returns.
---
Leave a comment